Trading: Moving back to alts
Towards the end of April I explained I was moving away from alts and back into BTC/ETH. The timing worked out well, as a lot of the holdings I held in April have subsequently been crushed on the ratio: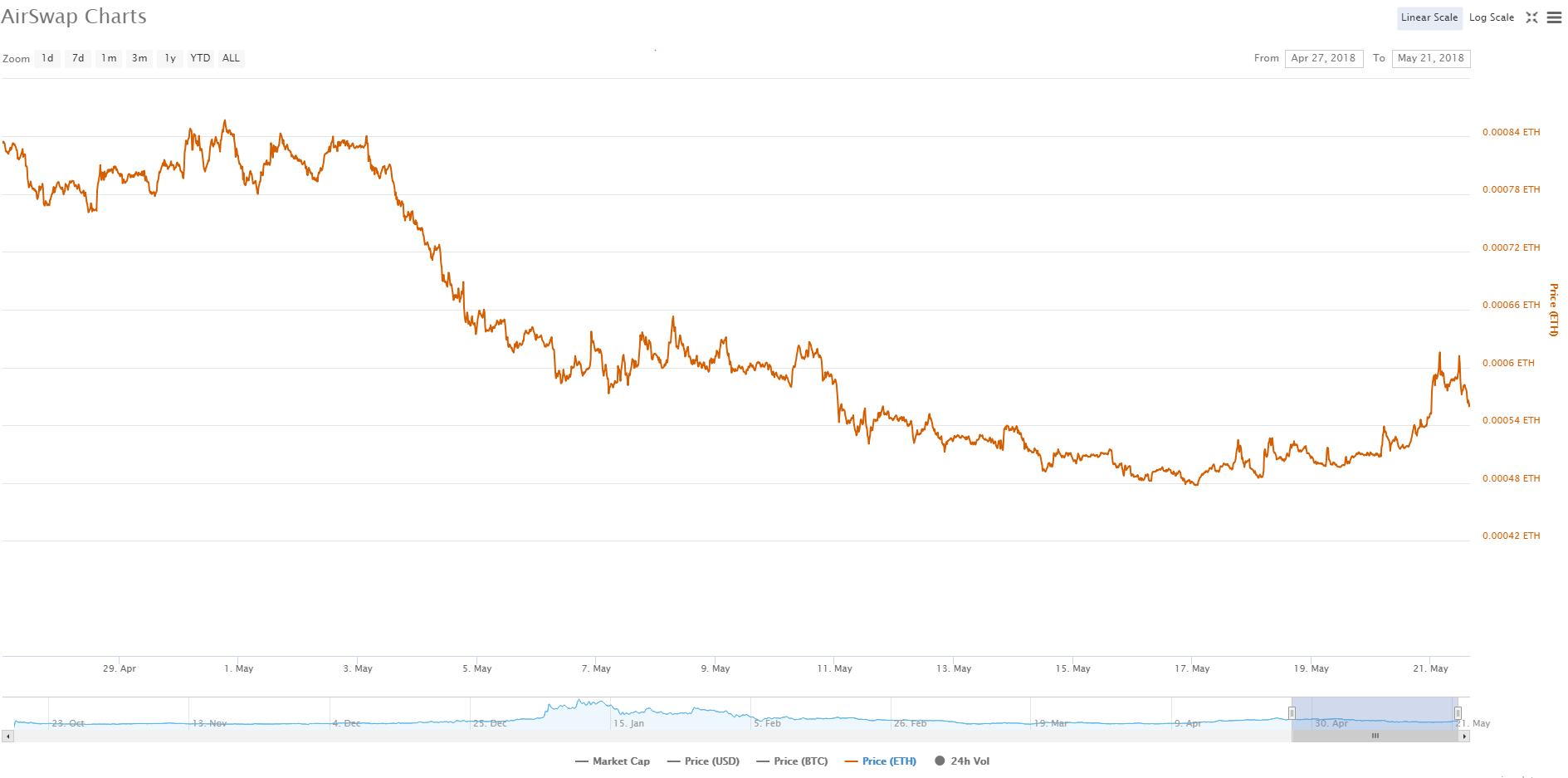 This isn't because ETH has made large gains of its own – it has moved from c. $660 to $701 as of writing. The recovery in March and April seemed to favour the smaller projects more than the large platforms and therefore the recent dips have hurt those more.
I believe now represents a good opportunity to move back into most of the alts mentioned above, and in particular OMG, REQ and ELEC.
OMG has not traded below 0.014 on the ETH ratio since last August when it first exploded in price. We are now back to those early August as well as early February prices. OMG has a roadmap filled with developments that should see it gain attention and as such I believe it represents a solid buy here.
There is no way to sugarcoat it, REQ has been wrecked on the ratio since hitting a peak of 0.00102 in late December. Since then it has fallen back to a price not seen since early December, back to the mid 0.0002s. REQ remains a solid project that has accomplished a lot in a short space of time. Given an ICO price of 0.0002, I suspect REQ does not have much further to fall vs ETH and should bounce back to 0.0003-4 in the coming weeks.
ELEC has been hit worse than most others. I wrote in April that I expected to see a large movement in April and May and we subsequently saw it move from 0.0001 to a peak of over 0.0003. Like REQ and OMG, it has now dropped significantly and has returned to 0.0001. Given it is essentially back at ICO price I like its chances of increasing substantially in the coming months, although there may be a slightly longer wait depending on newsflow. At a market cap of $30m, I am again moving ETH back into ELEC for another potential 2x (or more) gain vs ETH.
Other moves I have made recently:
Took profits on DERO following a large rise
Bought more TFD – I remain bullish on TFD this year, it remains low at $15m market cap, it is not listed on any major exchange and is below ICO price
Bought more ELA (I will be shocked if that doesn't go on a large run at some point in the near future. As a sidenote, I did some work for Elastos recently - you can find a post I wrote for the project here)
Bought more HORSE at 0.000036-8 (below ICO price, sub $2m market cap, working product with potential, able to buy 1% of circulating supply for $20k or so, looking to start selling again at 0.0001 and onwards)
Sold JNT following a large rise at 0.00075/82, looking to reenter around 0.0006 and down to 0.0005
Sold AURA - hard decision as I remain very confident AURA will appreciate but perhaps I got in too early - maybe market will value it more when staking goes live in Q3. One I don't understand why market doesn't value it higher, but time to move tied up funds into other hopefully more productive avenues). Sold at exactly my buyin price four-five months ago in ETH (vs fiat it would be my worse loss in crypto).
Monitoring Fabric post its (much delayed) launch. Bought more immediately on launch as price dipped to 40% below ICO, now stablised back at near 1.5x ETH ICO price. Looking to start taking profits at market cap of 10m
Looking to move back into Auctus – following taking profits at 3x ICO, Auctus has now dipped 50%. Considering buying more