Taking advantage of the market overreacting
One of the easiest ways to make quick gains is to look for situations where the market overreacts. A good example of this occurred tonight with the launch of trading of Publica (PBL) on EtherDelta.
The tokens launched at 2200 GMT and were soon trading at 4-5x the ICO price (USD 0.1 : 1 PBL). At around 22:15 this was posted in the Telegram group alongside the accusation of "is Publica team dumping?":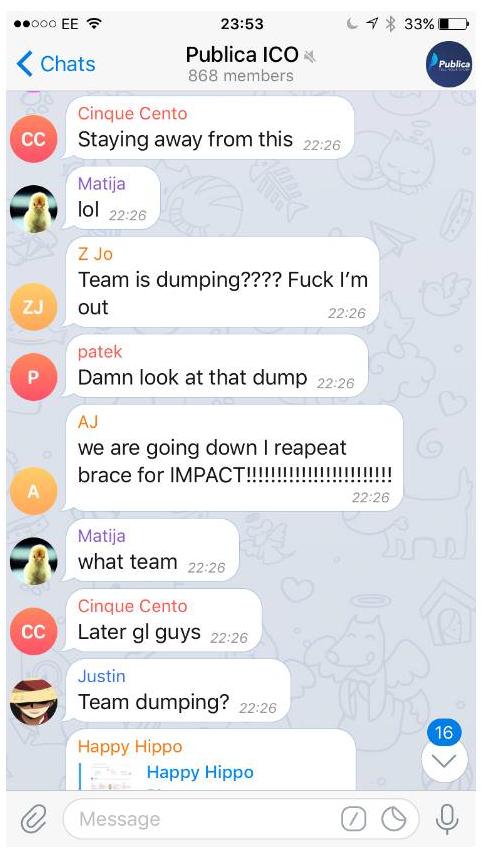 The price reacted accordingly, dropping from over 0.001 to a low of 0.00035 (roughly ICO price).
However, it was clear after some cursory research that a) the teams tokens were locked up. b) 500,000 tokens at USD 0.1 per PBL is only $50k, a paltry sum in the wider context of the project and; c) that there wasn't enough buy pressure to dump 500,000 tokens anyway.
This is a clear example of an easy win. The price before the FUD (fear, uncertainty and doubt) spread was c. 3x higher and the accusations were demonstrably false. I'm not particularly interested in the project, and the 40% presale bonus is enough to put me off the project anyway, but it was a quick and easy gain with low downside risk (one of the main reasons I like micro cap ICO lauches). Prices subsequently rose back to over 0.001 within the hour for a quick 100% profit and exit.
Disclaimer: I purchased but do not hold any PBL as of this article.